Clic here to go back to main site
European Resistance - 01/05/2010 - Sobkow in Poland - Photos et Videos
European underground electronic music party (Teknival)
VERSION FRANCAISE DISPONIBLE
CLIQUEZ ICI
On mid-april I received an email. Some friends, who are DJs and livers, will take part in a big techno party in Poland, with a lot of sound-systems from other countries. I decided to join them, and I wrote here our adventures...
If you don't know what is a "teknival", a "free-party", a "sound-system", or a "livers", I suggest you to read the following Wikipedia web pages :
en.wikipedia.org/wiki/Spiral_Tribe
and
en.wikipedia.org/wiki/Free_party
1. Outward journey
2. The sound-systems
3. Some reflexions on Europe
4. The nature and Sobkow village
5. Back to France – A tour in Krakow
6. Conclusion
1. Outward journey ↑ →
I start form France, it's pouring down; I hope that weather will be more pleasant in Poland. I cross Germany and half of the Poland.


It's long and boring. I promise myslef to take some time to visit Poland on when I go back to France.
In France, everybody beleive that all things are less expensive in other countries. It's false; in Germany gas is a little bit more expensive, and in Poland it's the same price. French people beleive that in Germany there is no speed limit in highways. In reality there are only small highways sections without speed limit. Thus, I found a lot of roadworks, so I can't go as fast as possible. In a German gas station I found payings toilets.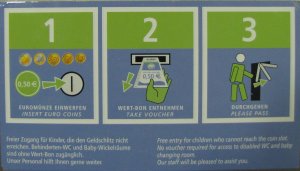 Clic here to view photos' list
At Poland border, I exchange some euros for some "Polski" (it's the money used in Poland) :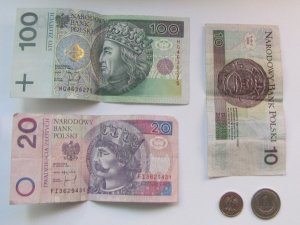 Clic here to view fullsize picture


You need about 4 Polski to get 1 euro. In few years, Poland will used euros as the other european countries.

In Poland there is no toll, except for the highway before Krakow; it costs 4 euros.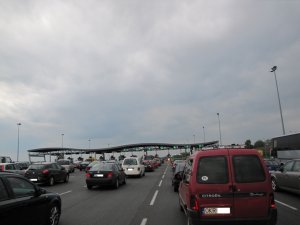 Clic here to view fullsize picture


When I cross Poland, I want to discover local music and I turn on my car radio. But I heard a lot of US artists and ... french artists like Mylène Farmer, Charles Aznavour, and at 22h00 I found a two hours program by Bob Sinclar !
And along the road I viewed a lot of ads for the same big stores that we have in France : Castorama, Leroy Merlin, Carrefour et Auchan... Globalization is here !

In Poland there is no time différence, although the distance frome Paris is near 1500km. Indeed, sun rises at 4h30 !

I turn of the highway at this time; I take some nice photos :



With sun light, I can appreciate nature and Poland villages.

In Poland there are automatic speed control devices like in France :


2. The sound-systems ← ↑ →
After a long travel (18h30) I come to the teknival. It takes place in old Sobkow village's ruins. Sobkow is in the north of Krakow, at 100km.

There are 16 sound-systems at the techno party. Some of them form groups so it was 7 walls, with 1 to 6 sound-systems each.

This is the list of the walls, with the sound-systems, their country, their web site; for each you can found photos and videos lists :




Among the spectators there were the other nationalities : Belgians, Swiss, Irish people, ...

This teknival was the opportunity to make some reunion; I met some Czechs people that I knew from "shot down the witch III" in Klokocov last year.

There is a lot of French people and sound-systems. We are festive people !

NB : Consiliabule sound-system experience problems with their power amplifier; but they can play on Mot C Nous' sound-system. That solidarity was greatly appreciated !

I enjoy to find various kinds of techno music : hardcore, tribe, drum'n'bass, minimal.

The atmosphere was very good; the spectators and the artists took care of coming to see what made all the sound-systems. In spite of language barrier, there was a lot of warm exchanges. Some notions of English are enough. On photos you can see members of a sound-system wearing T-shirts with the logo of other sound-systems.

Finally weather was nice, with temperature beetween 8°C and 20°C. It was just raining a little; we have nice sunsets at sunday :




Another important point : the inhabitants and authorities of the villages near the teknival very well welcomed us. Only two vehicles of police took turns to insure a presence on the road giving access to the festival. Several inhabitants came to see us with their families; some of thems brought local drinks to us ! We don't experience problems with people in the teknival; after the party waste was sorted out and collected.


3. Some reflexions on Europe ← ↑ →
On the road, when I saw city names as Berlin, Nurnberg, Praha, Warszawa, ... it makes me thoughtful.

In 1940, our grandparents fighted together... but they was not really differents form us.

And before 1989, this trip from France to Sobkow was simply impossible, due to cold war and politics considerations.

Our ancestors are like us, they just want to live in peace, go to parties, listen music, ... But politics force them to fight, destroy and die.

In fact, about World War II, it's false to say for example that German people was the enemy of French people. Some politics are the real enemy of people.

Today Europeans live in peace. But in reality politics force us to live in an economic war. They bring into conflict us with each other, to levelling down salary and social security benefits.

What should we do ?

We have to join us to make European Resistance !

We have to make European petitions, European demonstration, European strikes, European labor unions, OUR European politic party.

Indeed, big companies are international, big decisions came from international organization like ONU, OTAN, EEC, ...

So, if we make only local and small groups, we can't be successful.


4. The nature and Sobkow village ← ↑ →
On the afternoons, I take a tour on nature and villages around the teknival.

Here is some photos of the whole teknival, seems to be lost in nature :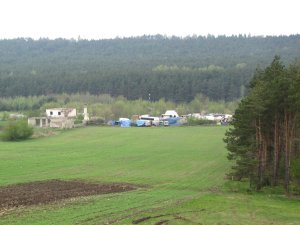 Clic here to view photos' list
I make a video,
available here
, on whitch you can hear a mix of distants sound-systems and singings birds.

On my trip I found a CD lost in the grass :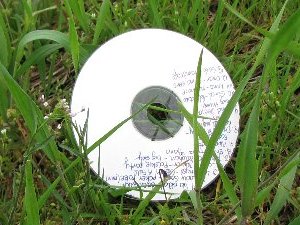 I listen it in my car. It contains US commercial songs, with some nice Pole songs, that we probably never heard in France or in other countries. Majors' policy is to "over-spread" a small number of songs, and ignore all the others. Appaling !
I take some photos of the ruins :
Clic here to view photos' list


And some photos of nature :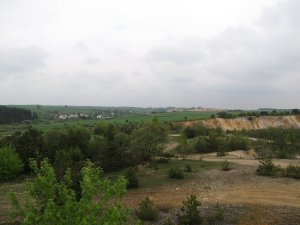 Clic here to view photos' list


Then, I walk in the forest :


Clic here to view photos' list


In the center of the forest, birds singings drown out the sound-systems :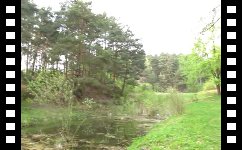 Right-clic on the picture and choose "save target as..." to download the video.
Sobkow's Forest is rich; at it's center I found a spring that supplies a small pond. At the other side of the forest, I come to Sobkow village. I think I will found houses on wood, with hight slope roofs. But house are built with bricks or concrete; their roofs are made with metal sheets.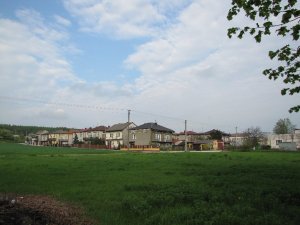 Clic here to view photos' list


Sobkow have a nice church. I coming at the end of a wedding, so I can go inside the church when people were gone :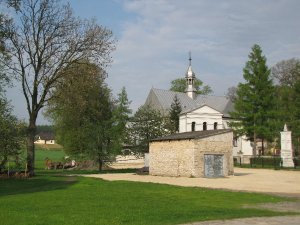 Clic here to view photos' list


Poland church are surrounded with a park with grass and trees.

At the moment I decided to go back to the teknival, four Polish people in a car ask me how to go to the teknival. So I return with them, they come at just the right time !


5. Back to France – A tour in Krakow ← ↑ →
As I said at the beginning, when I go back to France I take time to visit Poland.

In Poland you can find a large number of religious stele or cross. They are highly decorated, Polish people are very pious.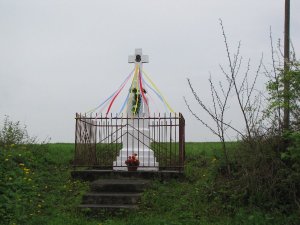 Clic here to view fullsize picture


Thus, they put some glass box with candles to light up their monuments and memorials.


Clic here to view fullsize picture


Then I stop in Jedrjejow :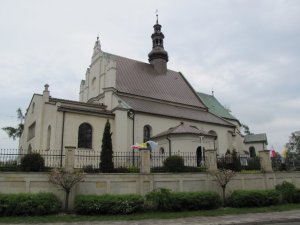 Clic here to view photos' list


I found along the 7 road another church, just before Antolka :


Clic here to view photos' list


I arrive to Krakow. This town has large and nice parks :


Clic here to view photos' list


Krakow is like Praha, but I find there are more ads in Praha. Like Praha, Krakow has magnificient old buildings :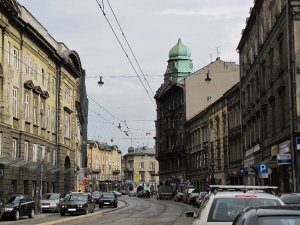 Clic here to view photos' list


I also take photos of miscellaneous things as streetcar, bus, ... :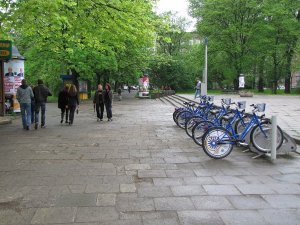 Clic here to view photos' list


I left Krakow, and just before to join the highway I notice a castle in forest :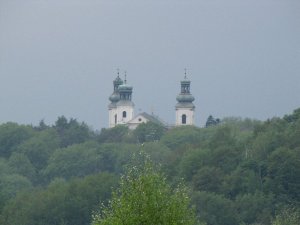 Clic here to view photos' list


Then I find a big brick house along the road :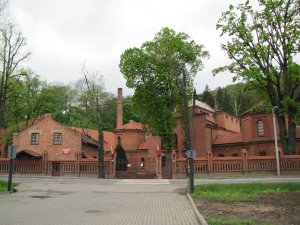 Clic here to view photos' list


It's the end of the day. I take some sunset photo and I sleep on a rest area.


Clic here to view photos' list
6. Conclusion ← ↑
This teknival was a great and invigorating experience !

A 100% underground event, a real "free-party" with free music and free people.

I appreciate to met a large number of people from many different countries.

This kind of events, and the members of the sound-system, are the future of music and culture.

With a minimum of means and with a minimum of money, we have make a real and positive meeting for all young European people. People from all countries should not fight together but join themselves in this kind of initiative.


If somebody wants to make a better english translation or a translation of this website in other langages, please contact me at :
contact@remylucas.fr
www.remylucas.fr 1999-2010